In recent years, New Orleans has produced some fantastic musical talent. It's hard to walk into a "bad" show in town these days, and we continue to see artists excel beyond our borders. We are truly stoked to introduce one artist we think will blow up very soon…Elon.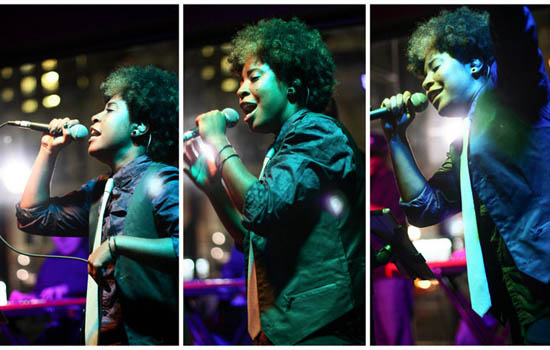 Last week Elon put it all out there at her EP release party/performance at The Saint Hotel on Canal Street. Her stellar self titled effort "Only Elon" stepped up the mic with Elon surrounded by some real deal New Orleans heavy hitters including Bassist Tom Drummond of Better Than Ezra (who also played on, recorded, and produced "Only Elon"), "Big" Sam Williams (Trombone), Andrew "Da Phessah" Baham (Trumpet), John "Papa" Gros (Organ), Chris Arceneaux (Drums), Shane Theriot (Guitar).
For the last week or so, I've been running more errands, making less pit stops when jetting around town, and driving up for dinner, just to be able to spend more time with Elon's first 6 tracks that make up her eclectic debut. It's a tough ass record, and it's hard to get the grooves and the harmony of tracks like "I Mean That" and "The Kids" out of my head.
Her genre-bending tone and unique voice continue to impress. The brass on the tracks don't play against the rest of the songs as they tend to do in other productions, but seem to strut and roll with Elon as if they were all part of the Rat Pack. The final track of the EP, titled "Get Offa Me", is drenched in brass, tight bass and drums, and layered to perfection. In my opinion it's her "swag" track and it leaves us with the sense of knowing who she is as an artist.
Finally, I can't imagine them not having a blast recording this record. It's totally evident through each track and how they fit so seamlessly together, that there was fun in the air. You can hear from 1-6. I expect big things from Elon and can't wait to hear the rest of the tracks she has building up in her head.