Way back in the day, right when New Orleans was coming around to Twitter, I signed up. Not really knowing what to make of it or even what to do with it, the Nola Twitter community was taking shape. One of it's mavens was and has always been Nolachick. Marielle, aka Nolachick, has become one of the most well known, versatile, and prolific models in and around town.
A few months ago, right before the phenomenally inspirational Exhibit Be closed down forever, Marielle and I shot around the grounds of one of the most inspiring project and events ever showcased in New Orleans. Congrats to Brandan "Bmike" Odums and crew for an unforgettable moment.
Below you'll find my favorites from the day as well as a Q&A session with Marielle.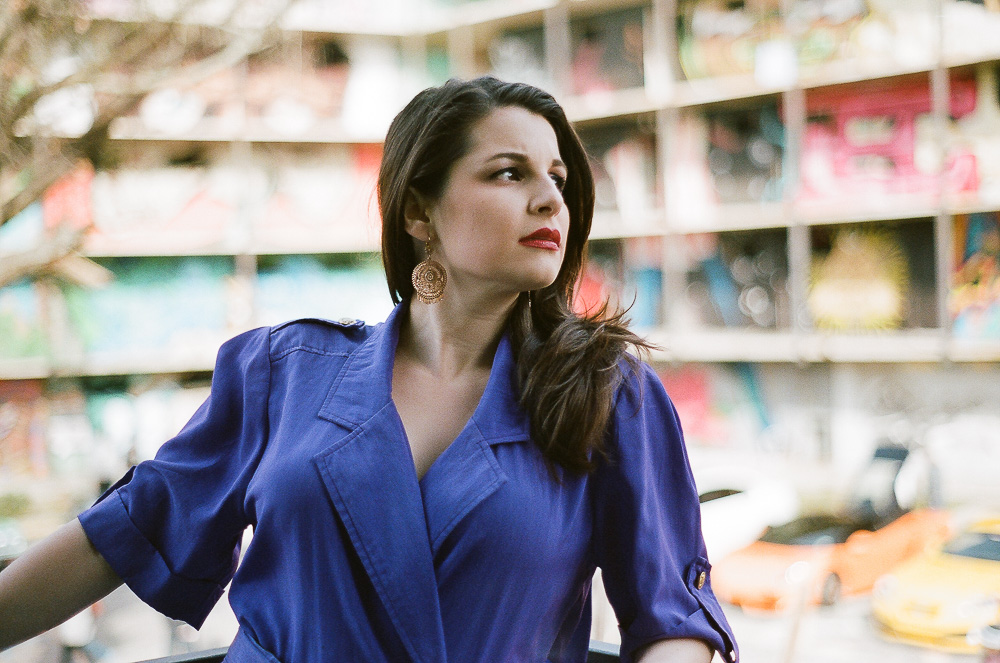 ---
1) What do you love most about New Orleans?
There are so many things to love about New Orleans. First and foremost I have to say I love the people. I feel like the people of New Orleans are extremely accepting, fun and easy to get along with. I also love the culture and the food. I consider myself a food lover and I love trying new places and exploring the city through different restaurants and cuisines.
2) You've been modeling for a long time here in New Orleans, what keeps you motivated and interested?
The main thing that keeps me motivated is the opportunity to be creative. I love the entire process of planning the shoot with the photographer and working on concepts. I love doing my hair and makeup and getting dressed up and getting to be glamourous. Meeting photographers from all over the country is a lot of fun. I am fortunate that I live in a "destination" city so many photographers travel here just for the opportunity to work in the city and photograph new faces. I think they like that I'm local and I can direct them to the best places to shoot for the concept that they have in mind.
3) When did you know New Orleans was a special place?
I've always known that New Orleans was special, but my appreciation for the city definitely blossomed after Katrina. I was 22 years old when Katrina hit, so I was just coming into my own and beginning to explore the city by myself. Watching the rebuilding and watching people come together to make New Orleans better made me realize that this is where I belong. I'm a 9th generation New Orleanian- my family helped to build this city. Getting to be a part of the rebirth of such a fantastic place has been magical. Also, I very rarely hear out of towners say anything bad about New Orleans. We aren't perfect, but we are genuine and friendly and I think that's what makes us unique.
4) What's you favorite New Orleans dish?
Now you are asking the hard questions! That is so hard because I have so many different food tastes. I can't pick just one, so bear with me. I love sushi at Hana and I love Pho at Pho Bang on the Westbank. One of my favorite dishes of the last few months has to be the Tritoni at Marcello's. It's lobster, shrimp, crab and spinach covered in a shrrry cream sauce and served over fettucine. It is beyond decadent, but it's so good. I like to pair it with a nice glass of red wine and it's just perfection. Look, I love to eat. I'll be the first to tell you that I don't deny myself anything. I don't diet, but I do practice moderation. Why would you want to be on a diet in New Orleans? Oh man, I forgot about Shaya! That's my new favorite place. The hummus is amazing there and don't even get me started on the lamb. Ok, you asked for my favorite dish and I started rambling. Food is a passion. I can't help it.
5) Where's your favorite New Orleans location to be photographed?
I love any place that is going to make someone ask "where was THAT taken?". I love little secret hidden away places. I've done a few photo shoots where people have thought that I went somewhere exotic to shoot and it was just behind a building in the warehouse district at dusk when the light is perfect and the entire scenery changes. Those are the best locations for me- the ones that are going to really catch the eye.