Just this year we've witnessed one of the culinary world's biggest collaborations in the opening of Restaurant R'evolution (777 Bienville Street New Orleans, LA. 70130 / 504.553-2277) here in New Orleans. Louisiana native, longtime proponent of all things Southeast Louisiana, and multiple award-winning Chef John Folse and James Beard award-winning Chef Rick Tramonto open the doors to their first collaboration inside the historic Royal Sonesta Hotel.
Collaborations since the dawn of time have been known to be explosive both in success and in failure.
When we think of tumultuous, un-successful, and bridge done been burnt down collaborations of the past, we can't help but to mention the following : Milli Vanilli, Cane and Abel, Bruce Willis and Tracey Morgan, and Regis and Kathy Lee. Of course some of the best collaborations include : The Black Keys and Mos Def, Missoni and Target, St. Marie and David Byrne, and finally U2 and Green Day, "The Saints Are Coming".
Here's a bit of history of how R'evolution was founded :
A longtime fan of New Orleans and a new resident of the area, James Beard award-winning Chef Rick Tramonto will foray into Southern cuisine with the opening of Restaurant R'evolution, in partnership with celebrated Louisiana native son Chef John Folse. Friends for over a decade, the two chefs deepened their bond in the wake of Hurricane Katrina when Folse asked Tramonto to join his large-scale efforts to feed survivors and rescuers across the region. That life-changing experience reinforced Tramonto's respect for the city's unshakable spirit and laid the foundation for the establishment of Home on the Range: Folse Tramonto Restaurant Development LLC in August 2010. Restaurant R'evolution will be the first of several joint projects for the two chefs.
With all that said, and I'll cut to the chase…my meal at Restaurant R'evolution was electrifying and truly stellar. It's hard not to have high expectations for a place that demands it all like R'evolution. Just walking through the door, you notice the distinct pedigree of something new meeting something old.
Before I get into the main courses of the meal, I must say the initial tease of the flatbread and biscuit that arrived immediately has to this day beaten any other table accoutrement I've ever had. Well, ok Popeye's biscuit is a very close second, and the offerings R'evolution brings to the table are certainly leaps and bounds better than the New Orleans standard French Bread with butter routine.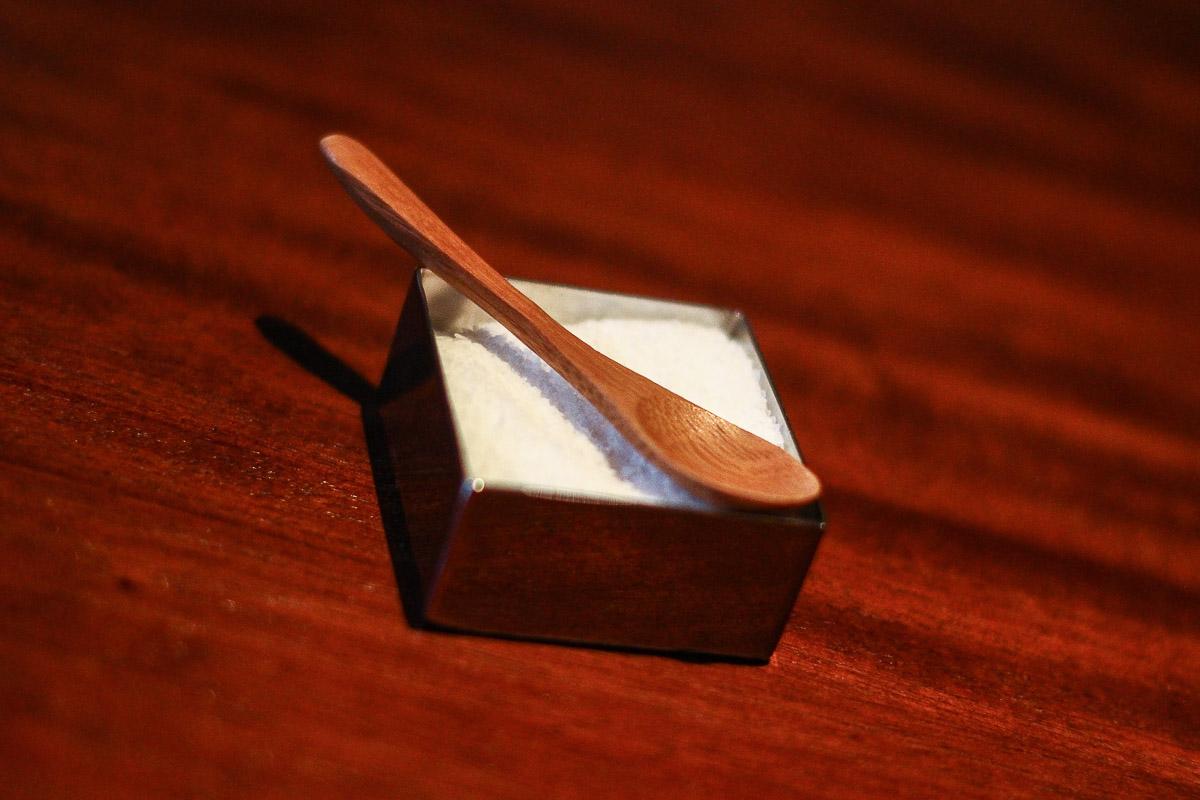 FIRST COURSE | SALAD
Raw Vegetable Salad — Preserved Lemon Vinaigrette, Parmigiano-Reggiano
First and foremost anything with Parmigiano-Reggiano is going in my mouth fairly quickly. The magic of the salad happens when you combine the fresh shaved veggies ever so slightly glazed with lemon vinaigrette, and a generous slice of the Parmigiano-Reggiano. Of course this exactly what Folse and Tramonto expect you to do and it just works so well. The Parmigiano-Reggiano is so distinctive it certainly works perfectly with the tangy and subtle finish of the lemon vinaigrette. Great start.
SECOND COURSE | PASTA
Goat Cheese Tortelli — Acadian Bacon, Arugula, Teardrop Tomatoes, Parmigiano-Reggiano
So I'm sure by now you know we are huge fans of swine a.k.a bacon and all it's derivatives. Take notice of the photos above of the huge piece of acadian bacon that almost fills the entire frame of the photo. Yep, that's what I was focusing on. I could have eaten several slices of those wonderful morsels, but needed to equally distribute it amongst the fantastically al dente Tortelli. The sauce was generous but not too soupy and the tomatoes were just perfect. Oh and did you notice another dish with Parmigiano-Reggiano made it's way to the table? Yep, kind of had to happen.
FINAL COURSE | DESSERT
White Chocolate Bread Pudding Crème Brûlée — Lemon-scented Apricots, Salted Bourbon Caramel Sauce
With so many dessert choices lining Restaurant R'evolution's menu, it's hard not to stay true to the old adage "life is short, eat dessert first". The other 7 diverse and different dessert offerings couldn't stand up against the intense power of their "White Chocolate Bread Pudding Crème Brûlée".
I was truly speechless the moment it hit the table. Clearly the star of the dessert menu (IMHO), it began with the intricately spun sugar and the densely decadent brulee'd bread pudding. I felt like Hugh Hefner for about ten minutes while having truly the best of both worlds in a dessert. Eyes rolled back, toes curled, and I destroyed what could be one of the best desserts I've ever had.
Finally, one short note, The Royal Sonesta is becoming quite the game changer as of late. With the addition of R'evolution and the recent opening of Irvin Mayfield's Jazz Playhouse, The Royal Sonesta is destined to continue being one of the best destinations for not only visitors from our of town as well as our locals.