Veterans Memorial Blvd. from end to end runs nearly 10 miles and has always been the main thoroughfare in Metairie. Still to this day I can hear my parents arguing over where we were going to eat while we drove down Vets. Things have changed dramatically all over the city since Katrina and Metairie is constantly keeping pace with the rest of the metro area. Except for food.
Now I know this sounds super harsh, and may not deserve it, but it's truly hard to find food in Metairie that is high value, good product, great taste, and consistently efficient. I apologize for beating around the bush, and what I really mean to say is that it's hard to find great tasting, consistent fast food when I'm in Metairie.
As a huge fan of burgers, as well as a big fan of the offerings around Nola proper, there isn't a single outlet for a great and fast burger…until now. Atomic Burger (3934 Veterans Boulevard Metairie, LA 70002 / PH. 504.309.7474) in less than a few months has changed the landscape of fast food in not only Metairie but the city itself. Founded by Joe & Nick Spitale, Atomic Burger is one of the best burgers I've had in a long time. It's right there with usual suspects from Uptown to Downtown and quite possibly better.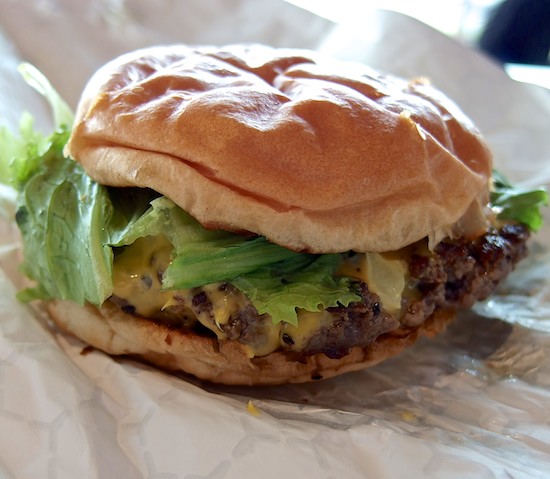 Atomic Burger's offerings cover a wide range of tastes and cravings. Typically I'll order a traditional cheeseburger with fries, but Atomic also offers bacon cheeseburgers, turkey burgers for the healthy set, as well as a portobello mushroom sandwich that could give any vegetarian cause for pause.
As for the burgers, which is why I pine for Atomic, they are like nothing else I've had this side of In-N-Out. I ordered at the counter and within several minutes my super fresh order was ready. The bun is soft and substantial. The cheese is american (which is the only cheese I'll eat on a burger), and the rest of the toppings, minus the tomato, we're a perfect mix. The meat is well seasoned and has a salty crust that's very rarely achieved in burgers. The fries are well sized and well salted which is always a plus. Honestly there's nothing worse than a bland burger and pile of fries. I need that salt during the experience almost as much as the Barq's.
With the dozen times I've visited Atomic Burger, I've just recently had one of their Atomic nitrogen frozen milkshakes. As I've stated before, Barq's is my drink of choice when eating a burger a fries, but the milkshake I had instead flew me to the moon. I was never one to dip my Wendy's fries in the frosty but this time I took the opportunity to do it at Atomic. Wow. Wow. Wow. The milkshake on it's own, sans french fries, was dense & and smooth, and more importantly didn't clog my godforsaken straw.
I was able to meet with the Spitale brothers last month to discuss their new venture and what it meant to them. Through their way over full-time work weeks, tweaking of every offering, and their constant dedication to making sure the each station runs tip top, they struck as business owners that just get it. They're dialed in a high a very level and understand the value of things like branding, quality product, and good service. I asked them about their choice in name and what it meant. Of course everyone, including myself assumed it was derived from something related to outer space. On the contrary. Their name relates the elemental approach to their business. Having the right people, loyal customers, and the right fresh ingredients, will in the end elevate their business to the level they hope to achieve. Brilliant and insightful.
So maybe when you're out and about in Metry, don't waste time driving up and down Vets looking for a spot that tickles your fancy, drive into Atomic and get some truly great food. It just happens to be really fast.